The Edit Me Challenge was such fun to try. I discovered this weekly challenge while visiting A Rural Journal. A photo is provided for download and then the editing begins.

































My edit of the photo...
My goal was to create a vintage looking photo. I used Elements 10 for my editing.
Layer 1: Adjustments and Gradient Map. Click on black to white gradient creating a black & white photo. Set opacity to 70% bringing back some of the color.
Layer 2: A Distressed Jewel texture was added and the mode set to Multiply. The opacity level set at 69%
Layer 3: A French Kiss overlay, Glorious Grunge Edge gave the photo an aged look to it. I set the opacity to 51% A masking layer was added to remove some of the scratches from the yellow flowers
Finally, I stamped the photo with a French Kiss brush, French Script No1, Meilleurs. By holding down ALT I changed the text color to a dark gray.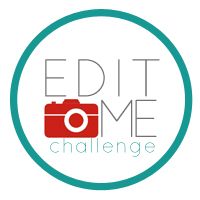 Linking up at
A Rural Journal
for Your Sunday Best Challenge. I like to go through my week's photos and choose the one I like best. The Sun Worshippers conveys multi-layers of meaning and emotion, at least for me. A lonely barn, decaying in the morning sun, yet vibrant with life as turkey vultures stretch their wings greeting the light of the day. I wish I could have gotten closer, but a field separated me from the barn.
I have a question: Do you ask before shooting? I knocked on a couple doors hoping to get an ok to walk on their property and take photographs, but no one answered the door. Instead, I stood respectfully along the side of the road grabbing what photos I could. It limits the shots, but makes me feel less invasive.
There's more Sunday Bests at...